Drift Shifters Course Map
---
Course Breakdown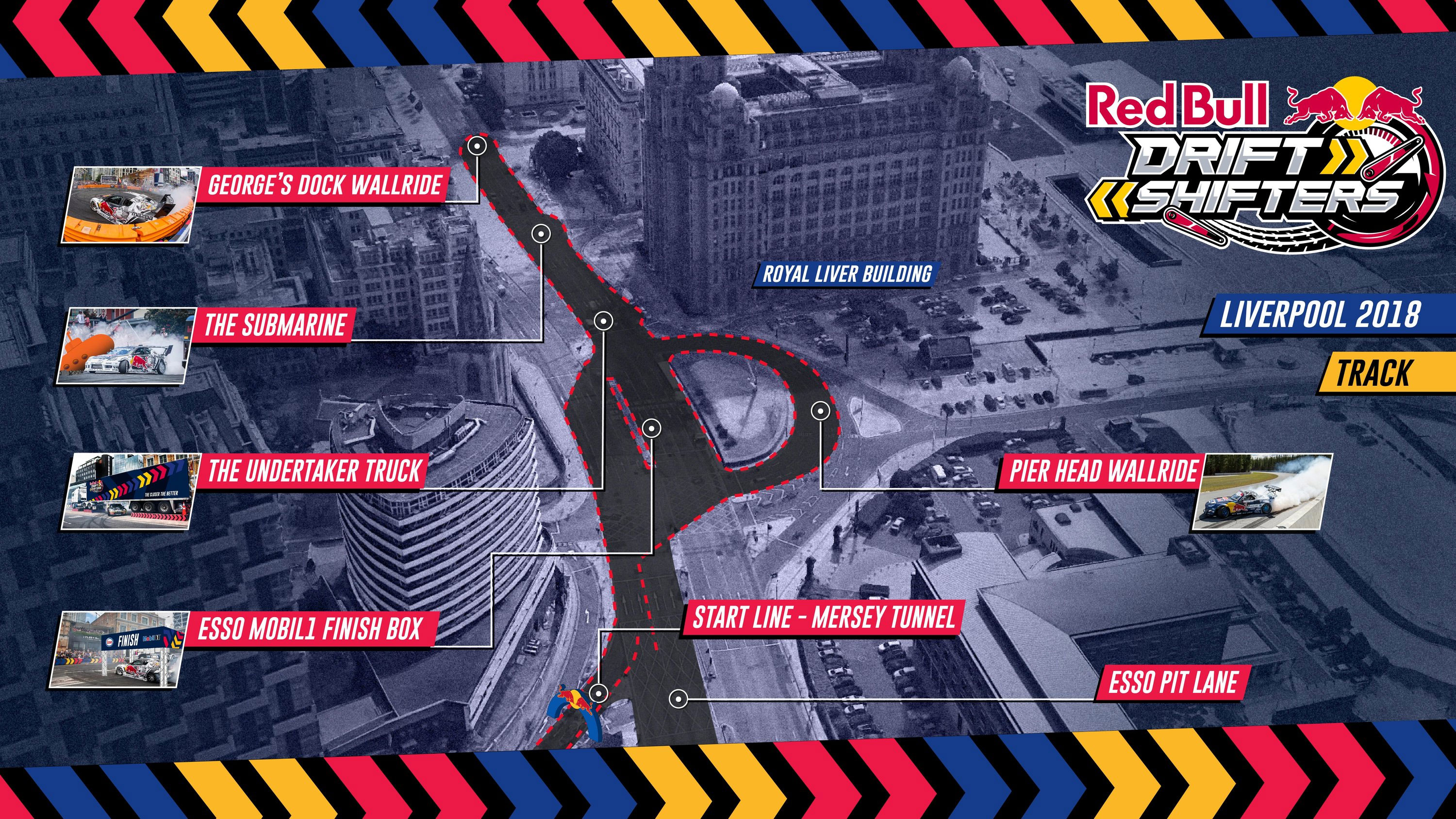 The Start Tunnel
Drivers will start their run beneath the city of Liverpool itself, firing out from the Mersey Tunnel, as featured in Fast and Furious 6, and onto the track.
The Pier Head Wallride
The biggest and fastest wall-ride ever featured in a Red Bull Drift Shifters event. At a length of over 80m and the fastest entry speed of any corner on the track, drivers will be trying to slide the rear bumper of their car as close to the wall as possible to trigger the proximity sensors mounted within it.
Unlike more traditional drifting events, the course is rigged with advanced sensors which measure drivers on their speed, line, angle and proximity. This technology instantly converts the quality of each drifting performance into a score, removing the need for judges, ensuring enhancing accuracy in scoring.
The Undertaker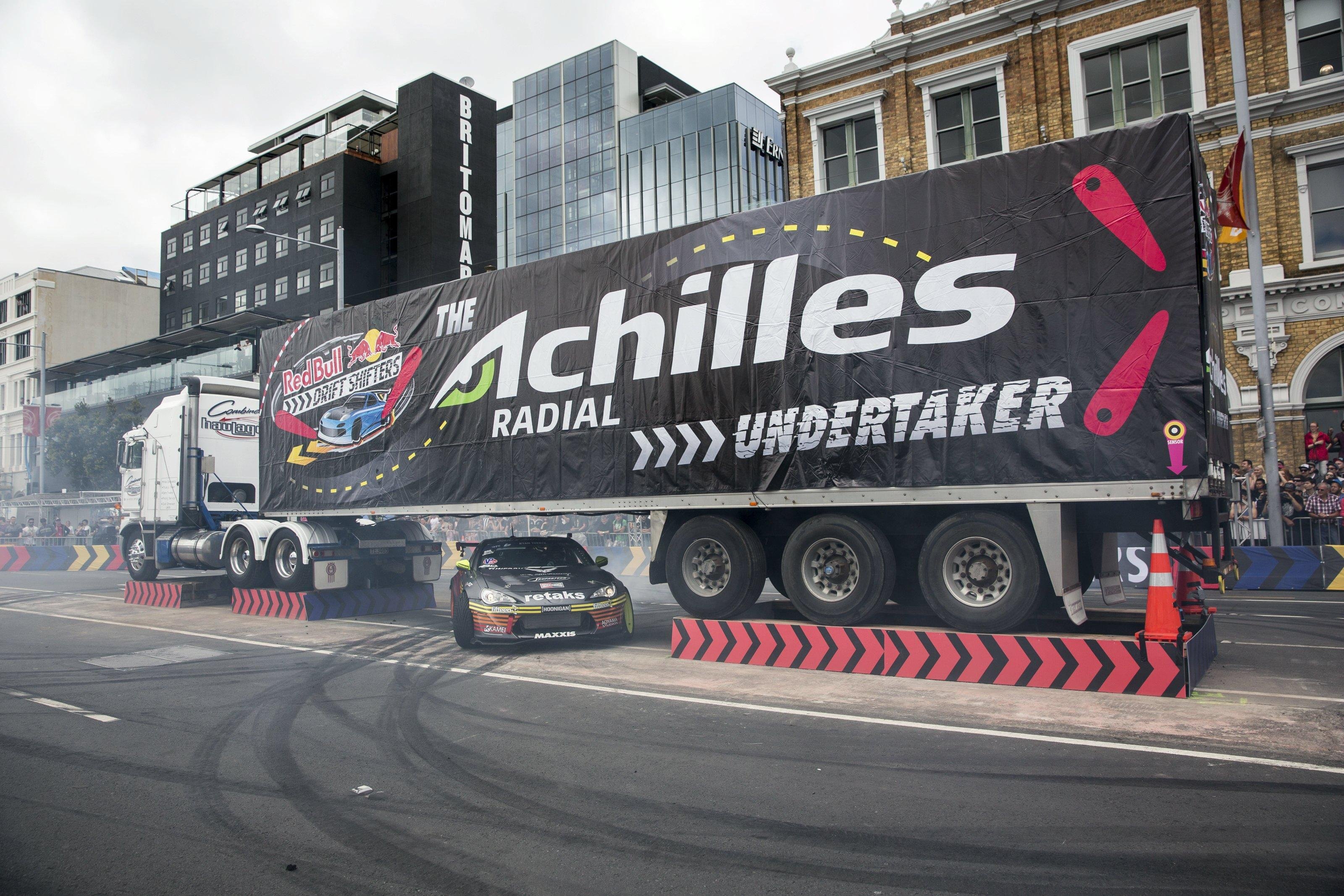 Drift Shifters is a unique take on drifting
© GRAEME MURRAY/RED BULL CONTENT POOL
A crowd favourite feature from previous events in New Zealand – drivers drift their vehicle around and underneath a fully functional articulated truck.
The Submarine
A brand-new feature in the centre of the track that pays homage to the rich heritage of Liverpool.
The Georges Dock Wallride
Sitting at the very end of the track, this tight wall-ride requires drivers to manoeuvre their vehicle perfectly or face vehicle demolition. To gain bonus points for hitting all six sensors on this wall ride, drivers will have to position their vehicle within 30cm of the wall as they drift the entire way around the almost 270-degree corner.
The Esso Mobil 1 Finish Box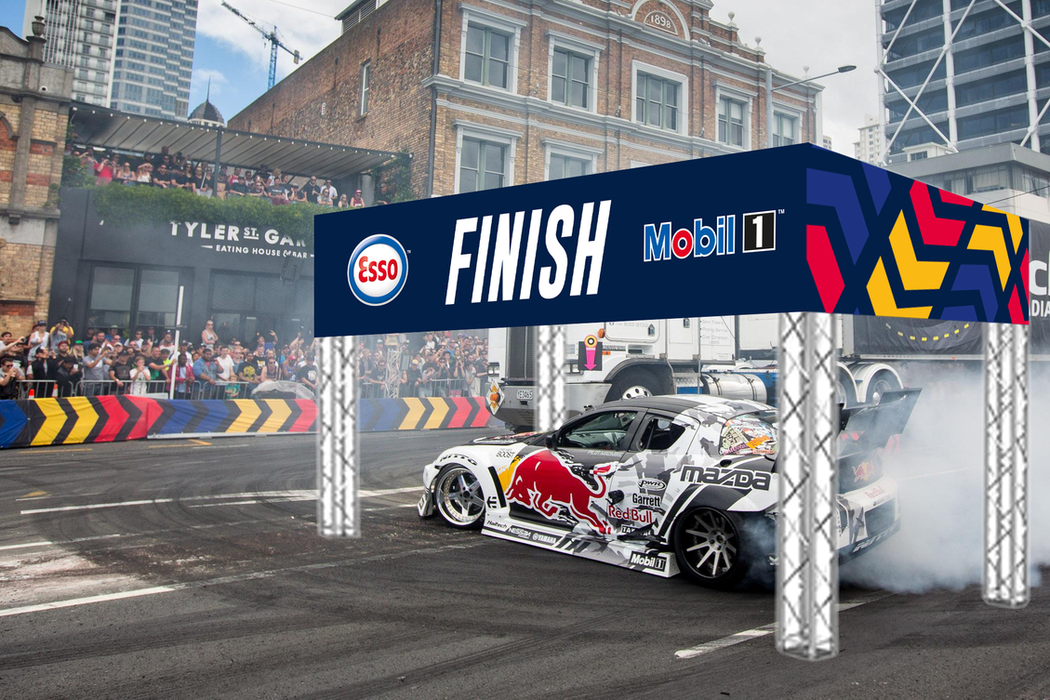 A mock-up of the Mobil 1 finish box
© NICK ELLRICH
Possibly the most important feature on the track, the drivers have to finish their run by drifting their vehicle into the tightest parallel parking spot in the city and be within 30cm of the wall before the clock stops. Drivers cannot afford to miss this obstacle otherwise they face missing out on big bonus points and a spot at the top of the leaderboard.
How is it scored?
Each driver is given a limited amount of time to rack up the best score possible and make it back to the finish box before the clock hits zero. Drifting the entire course sideways at high speeds is the fastest way to trip sensors and gain the most points in the time they have. The angle they drift is also important as specific features in the course use the exact angle of the vehicle to score the driver, with big score rewards for getting the car fully sideways, just metres from the crowd.
So, a combination unique lines, speed and proximity will score highly.
Red Bull Drift Shifters is coming for the first time ever to Liverpool Docks on August 19. Get your tickets now!